---
May 29, 2021 — Following a surprisingly successful year for the Evercade retro handheld, we take a look at its successor "TV-only" version dubbed the Evercade VS that is scheduled for release this November alongside several new multi-game cartridges.
British company Blaze Entertainment manufactures and sells the Evercade, a handheld console/arcade emulation system released in May 2020 that uses a customized Linux kernel to power its super-optimized emulation OS. The Evercade faithfully runs various games from the 8 and 16-bit eras, and although the handheld can be connected to a television, its output is forcibly limited to the squarish 4:3 aspect ratio used by retro consoles like NES, SNES, and the SEGA Genesis/MegaDrive/Dreamcast.
"Unlike its handheld predecessor, the Evercade VS is only for TV and will play retro games in 1080p through "top-of-the-line emulation" with support for up to four players/controllers in local co-op."
Meet the New Kid on the Block
To resolve the above, Blaze recently announced the new Evercade VS — a "TV-only" retro console and arcade emulation system that supports modern widescreen resolutions like 1080p. One classic console to benefit from the VS' increased resolution is the Atari Lynx that introduced a 1.57:1 widescreen mode in 1989 (that's 15 years before the Sony PSP introduced widescreen proper to handheld gamers!)
Blaze's Evercade has become the go-to console for retrogamers all over the world. In less than a year, its surprise success has been achieved by cleverly evoking the nostalgia of classic games using physical-only game cartridges as well as emulating the gameplay experience of the 80s and 90s better than any of its competitors (including various options available in the piracy ROM scene.) In short, the Evercade provides by far the most authentic retro game experience as it conveniently lets players access the best of classical gaming through a single piece of hardware.

One of the more notable reasons as to why Blaze's handheld is so popular amongst diehard retro fans is without a doubt its excellent controllers. Evercade's surprisingly comfortable and versatile gamepads and D-Pad designs have quickly become favorites amongst retrogamers. Add to the mix that more than 250 games are available at the time of writing, a lineup that includes officially licensed games by Arc System Works, Atari, Data East, Bandai Namco Entertainment, Sensible Software, Bitmap Brothers, Team 17, and Codemasters to name a few.
With unrivaled controllers, an attractive games library, and the back-to-basics cartridge storage system that will support two carts to be inserted simultaneously on the VS, the future looks bright for Blaze Entertainment, and it is not very difficult to imagine how the Evercade phenomenon will continue to grow in popularity amongst those with a love for the greatest games of the past.

SIGN UP FOR YESTERMADE™ WEEKLY!
The Evercade VS is only for TV and is designed to play arcade ROMs and retro titles in resolutions as high as 1080p. The VS' wide-screen support enables retro gamers to experience older yet powerful consoles like the Atari Lynx more authentically. Besides, there are a couple of custom-built arcade machines from the mid to late 1990s that could potentially be emulated 1:1 in 60fps given the Evercade VS 16:9 TV support, and perhaps rarities like SEGA's Daytona USA 2 and TAITO's Vertexer will eventually be supported.

With support for up to four controllers to use in local co-op plus a newly added WiFi to make updating the console's firmware a breeze, it looks like retro fans cannot go wrong with the Evercade VS, which will be priced at $99.99 when it launches on November 3, 2021.
Games & Compatibility
Crucially, the Evercade VS will be compatible with Evercade handheld cartridges. Perhaps this is why the forthcoming VS supports two cartridges at a time via an NES-style flap that opens its top to reveal two cartridge slots. The dual-bay system allows for save and load states, and players who will own both Evercade consoles will be able to pick up where they left off by simply swapping carts between the VS and its handheld sibling.
"One of the more notable reasons as to why Blaze's handheld is so popular amongst diehard retro fans is without a doubt its excellent controllers."
As with any console, content is king and having a strong lineup of fully licensed and curated retro game collections sold on cartridges in attractive retail packaging with proper manuals could very well see the VS fly off shelves when it releases this November. In fact, it is not unlikely that Blaze's upcoming TV-only home console arcade system will carve out a sizable niche for itself in the highly lucrative console market. Nintendo, Sony, and Microsoft are surely keeping an eye on Blaze.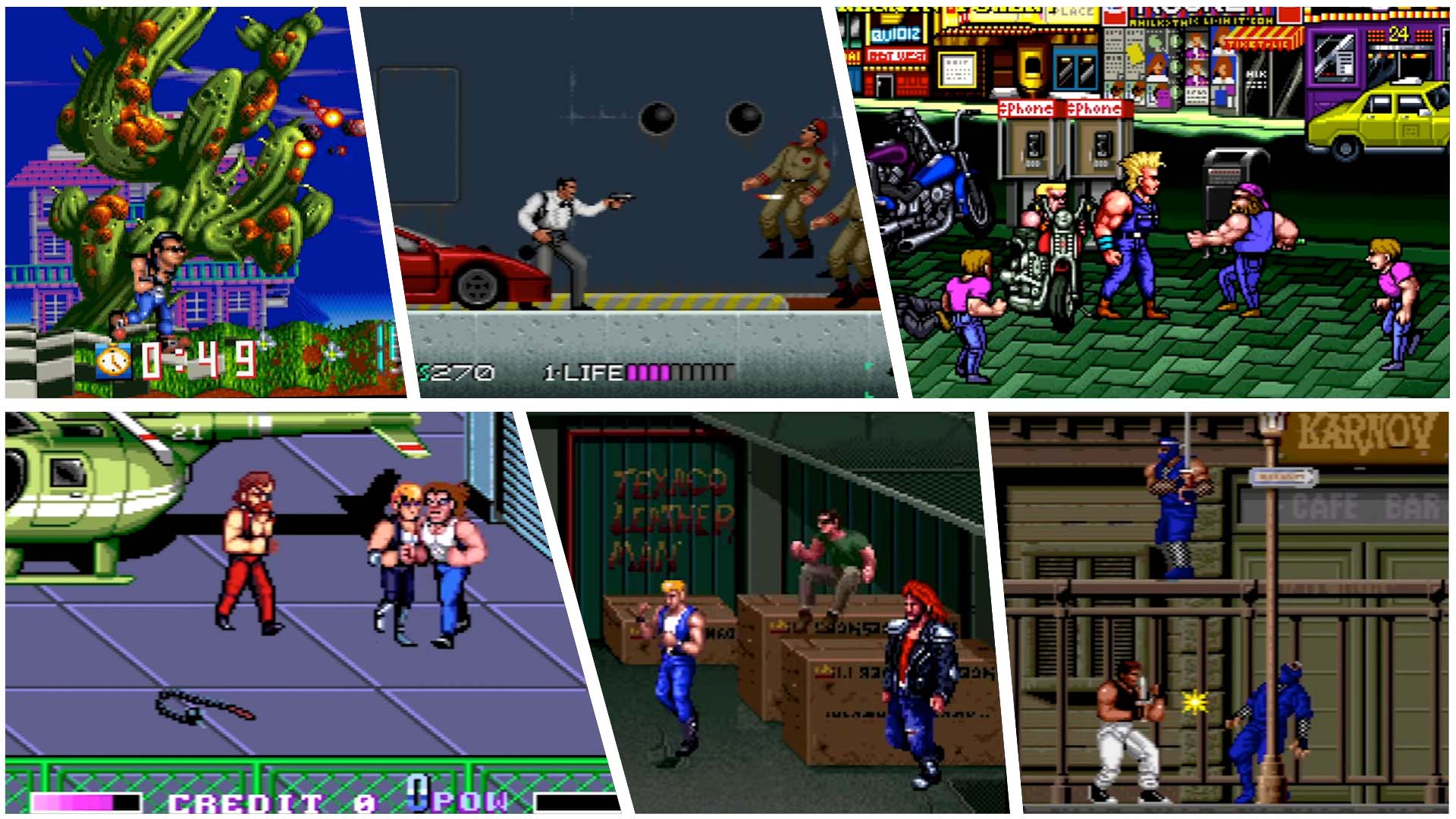 Blaze is also releasing four new Arcade collection cartridges with some of the most requested games from the Evercade community. Games include:
Bad Dudes vs. Dragon Ninja

Double Dragon 2

World Rally

Asteroids Deluxe

The Combatribes

Burger Time (Arcade Version)
Other cartridges to be released this fall include the Intellivision Collection 1 and The Bitmap Brothers 1, which will bring classic games from two of gaming's greatest names; titles include:
Astrosmash

Night Stalker

Princess Quest

The Chaos Engine

Speedball

Xenon 2: Megablast
Closing Thoughts
Like its handheld forerunner, the Evercade VS is clearly on its way to becoming the de-facto, retrocade-standard for fans of the past. With its excellent controllers and addition of local co-op, the VS will smoothly deliver the best gaming experience for some of the most popular console and arcade games of the 80s and 90s; a mission it has partially already accomplished through its one-year-old Evercade handheld.

The Evercade VS will be available in retail outlets like Amazon, GAME, and Funstock on November 3, 2021, with pricing starting out at £89.99/$99.99/€99.99. Retro game aficionados fearing hardware scalping may want to secure Blaze's new VS console by pre-ordering it directly from the Evercade website (a limited quantity of 5,000 units is available for pre-order at the time of writing.)